3d wall decor panels for interior designs
3d wall decor panels offer a dramatic alternative to flat wall panels. Combine 3d wall decor panels with creative lighting and the results are spectacular. With strong 3d effect, 3d wall decor panels can bring you to live in luxurious surroundings and make your home with elegant style.
What is 3d wall decor panels?
3d wall decor panel is a kind of innovative architectural wall panels which offer an extra dimension to your wall. it is made out of middle density fibre board (MDF) or high density fibre board (HDF) with strong 3d effect looking.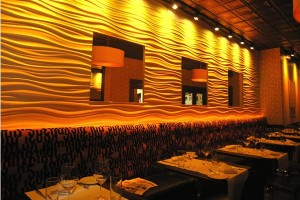 What is the usage of 3d wall decor panels
Interior designers believe that rooms should have a central focal point of interest, from which all other elements flow. A feature wall in 3d wall decor panels is an easy way to achieve this.
Apart from creating a unique style of feature walls, 3d wall decor panels can be crafted into furniture such as cabinet doors and doors on entertainment units, They make folding screen and reception desk fronts, photo frame, wood strip, bed heads, stunning bar and more.
How to install 3d wall decor panels?
Installation Methods: Due to the manufacturing methods used to produce 3d wall decor panels, most panels will have a slight "bow" or "warping" in them. This is considered normal and can easily be removed using the installation methods below.
If a higher degree of flatness is required, Baltic Birch Plywood can be bonded to back of panels prior to manufacture. This completely eliminates warping. The maximum size of Baltic Birch is 5' x 10'.
Z-Clips: Z-Clips may only be used if there is sufficient material thickness to allow screw attachment of the clips to the 3d wall decor panels. Ideally, the panels should be specified thick enough or with a thick enough backer to accommodate the screws that are to be used. Panels of minimum recommended thickness can be used for Z-Clip installation, but the installer must first glue wood screw cleats to the back of the panel. Z-Clips should run the full panel width to insure adequate support across the entire 3d wall decor panels.
Refferance:
1. installation video guide:
2. http://www.3d-wall-panels.com – Leading manufacturer from China offers 3d wall panels, textured 3d wall panels, sculptured 3d wall panels for interior.