Textured Wall Panels
PANGU WP Series :: Textured Wall Panels :: Selections

Textured Wall Panels :: Summary
Pangu textured wall panel (textures wall panel) is a kind of innovative wall panels for interior decoration, it is made out of middle density fibre board (MDF) or high density fibre board (HDF). Because the pattern looks like waves, textured wall panel is also named wave panels or wavy wall panels.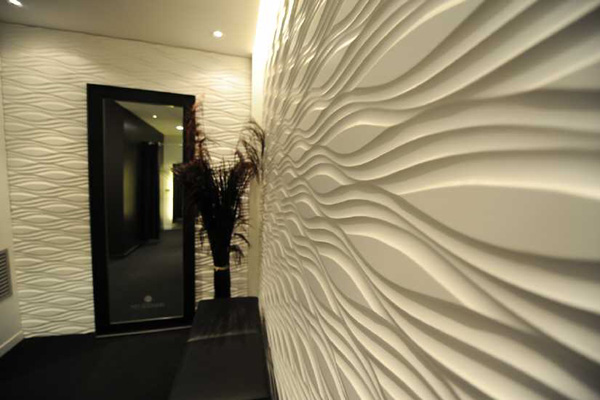 Textured Wall Panels :: Specifications
The Standard size of textured wall panel is 1220mm*2440mm*15mm, with melamine covered on back side and white paint finish on the front side.
As a leading textured wall panel manufacturer from China, currently we have hundreds different patterns, we keep introducing fresh, new designs regularly. Further to our wide range of designs, custom made service is also available for us, if you have your own concepts or ideas for textured wall panel designs please do not hesitate to contact us.
Textured Wall Panels :: Application
As a popular decorative material, textured wall panels are almost available in everywhere,  such as TV background, cabinet door, exhibition shelf, frame, furniture skin, ceiling wall covering, etc
Textured Wall Panels :: Gallery
Other Products::
Sculptured wall panels
Decorative grille panels